War on Tigray: TDF destroys 11 enemy tanks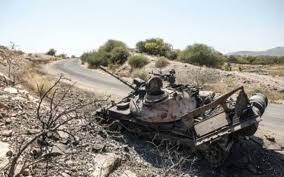 Tigray Defense Forces (TDF) spokesperson, Gebre Gebretsadiq, claimed that in the past three days Tigray forces have completely destroyed 11 enemy tanks on three fronts around Mekelle and environs. He also said several divisions have been destroyed. He claimed Property Party (PP) forces are almost all destroyed and that the war is now with Eritrean forces.
The spokesperson said that PP infantry divisions 25, 13, 12 and mechanized divisions 6, 31 and 20 have all been destroyed. He said PP is now using security, militia and police forces from the different Ethiopian regions. He claimed these forces have also been hit hard and they can be considered no threat.
The spokesperson reiterated the positions of the enemy forces. The enemy forces on western and northwestern, Rama, Gerhu Sernay and Zelambessa fronts are all Eritrean. On the southern front, they are PP forces. Their positions are as below.
On west and northwest (Eritrean): infantry divisions 18, 21, 26, 28, 35, 37, 31, 57, 65 and mechanized 46, 48 and two militia brigades.
On Rama Front (Eritrean) : infantry 53, 39, two brigades from division 525, and mechanized 42.
Gerhu Sernay front (Eritrean): 39, 36, 13, 55, two brigades from division 525, some brigades from mechanized division 42, and two PP brigades.
Zalembessa Front (Eritrean) : Infantry 11, 17, 19, 33, 22, two birgades from division 27, and mechanized division 49.
Raya Front (PP): Infantry 25, 12, 6, mechanized 13 and 31. These are almost destroyed. Then came 6 Amhara special force brigades called Gafat, Belay Zeleke, Tana, Tedros, Welwel, Menilik. These are also almost destroyed.
The spokesperson stressed the war is now almost with a foreign forces only. Fighting TDF in Mekelle and environs, Al-Asa, and Samre fronts are Eritrean forces with some PP forces that are first used as canon fodders. He said that Mekelle is not fully under enemy forces as claimed, but under ongoing fighting. This probably explains why PP media do not show footage of Mekelle.
He said that the invading foreign forces are inside Tigray killing young men, pillaging and looting. He said that Abiy Ahmed has left Tigray alone for a foreign invasion. He claimed the invading foreign forces have hoisted Eritrean flags deep inside Tigray, namely in Adiabo, Sheraro, and Adi Hageray.
Gebre said "we are not fighting with PP forces any more. We are fighting with an invading foreign force." He urged Ethiopians to know this highest treason and called on them to stand with Tigray.
Despite Abiy Ahmeds claims of end of war to divert international attention, war is raging on all fronts using all means. Abiy Adi town has been bombed with warplanes since yesterday. Tigray TV claimed civilians and civilian infrastructures have been targeted. Residents said they are forced to evacuate and hide in the surrounding mountains. Tigray TV footage showed destroyed cars, houses and water tanks. Tghat was able to independently confirm the bombing of Abiy Adi from residents who contacted us from the Amhara border where there is cellular data.