One Year of Tigray Genocide as Told by Siyad Arts
Thematically arranged retrospective of some of the evocative drawings by political cartoonist Siyad, telling the story of one year of Tigray Genocide.
Trying to reflect on something as brutal, inhumane, and traumatizing as genocide even as it is ongoing seems next to impossible. And yet, as we mark a year of the ongoing war and genocide in Tigray we all feel a compulsion to take a breath and look back on the last year. From photographs to campaign posters, paintings, and other artwork the story of Tigray Genocide has been told as much in images as it has been told in words.
The evocative drawings of political cartoonist Siyad Arts offer a particularly striking chronicle. This thematically arranged retrospective presents some of his drawings published here with the gracious permission of the artist:
War on Tigray
The declaration of war on Tigray by Prime Minister Abiy Ahmed on the 4th of November 2020 took many by shock. For Tigrayans the long history of embattlement in Tigray and the many hard times weathered by the people of Tigray were a source of solace, that this too would pass and that Tigray would prevail.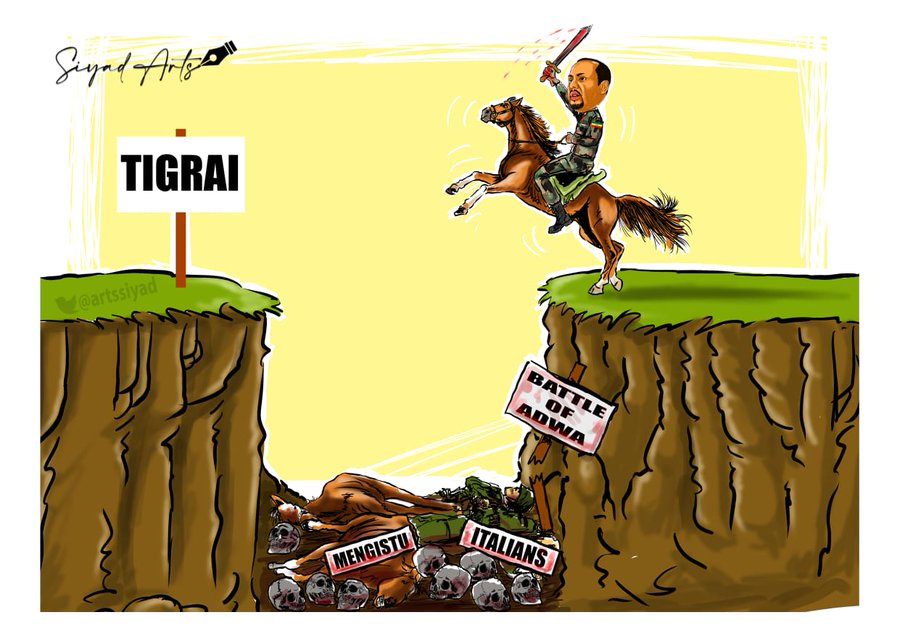 Atrocities and Genocide
From the very start of the war, the Ethiopian regime sought to maintain complete narrative control by imposing a total telecommunications blackout on Tigray. Even so, horrifying details – largely ignored by the mainstream media because they were not readily confirmable – of the brutal campaign being waged by the Ethiopian and Eritrean regimes trickled out.
Humanitarian Crisis and International Indifference
Even after Abiy Ahmed declared victory on the 28th of November 2020, his regime sought to control the narrative on the ongoing war and the burgeoning humanitarian crisis in Tigray. For many months the international community chose to largely believe this narrative even as atrocities committed by Ethiopian and Eritrean forces multiplied and the Ethiopian regime hindered the unfettered distribution of humanitarian aid to millions of people in war-ravaged Tigray.
The Geopoltical Context: The Tripatrate Axis of Evil
A key aspect of the war on Tigray, which is not discussed as much as it deserves to be, is the role of the tripartite alliance forged between President Isaias Afeworki of Eritrea, Prime Minister Abiy Ahmed of Ethiopia, and Prime Minister Mohamed Abdullahi Mohamed (Farmaajo) that has been so destructive to the region.
Isaias Afeworki
Of particular note, in relation to War on Tigray and Tigray Genocide, is of course the influence and full collaboration of the Eritrean dictator Isaias Afeworki in the planning and execution of the brutal attack on Tigray.
Tigrayan Resistance
The brutal atrocities committed in Tigray inspired and drove a ferocious resistance that drove back occupation forces from most of Tigray in late June 2021. Since then Tigrayan Defense Forces have continued to struggle to liberate all of Tigray and to break the siege and humanitarian blockade imposed on Tigray.