War with the Lay Tigrayan: Civilian Airstrikes in Tigray
The Ethiopian and Eritrean governments are at war with the lay Tigrayan, plain and simple. There is a pervasively oppressive narrative within the international community at the moment labeling Tigrayans as "rebels" and "separatists" in their fight to survive. Yet, at heart, the world itself knows that Ethiopia is at war with all that is Tigray: its people, its culture, its history, its infrastructure, even its animals. This is a war against the Tigrayan psyche – to diminish, dehumanize, and subjugate it. In this article, we have compiled a list of civilian airstrikes around Tigray, showing it as one of the multifaceted methods for Tigrayan subjugation. The list is incomplete. Given the communications blackout in Tigray, it is also safe to assume there are dozens more yet to be reported. (You can jump to the list right under the narratives below. Please note that the list contains information and images that are traumatizing to some audiences.)
International Humanitarian Law (IHL) has five core principles: the distinction between civilians and combatants, the prohibition to attack those hors de combat; the prohibition to inflict unnecessary suffering; the principle of necessity; and the principle of proportionality. Let us leave aside for a moment the multi-pronged methods towards the Tigrayan genocide: the starvation and man-made famine, the ethnic cleansing and occupation in Western Tigray, rape and sexual violence as a weapon of war; the prison camps; the besiegement and blockade of basic necessities and essential services for seven million people. Instead, let us only look at aerial attacks carried out by Ethiopian and Eritrean forces since the onset of the war, in breach of ALL the above-mentioned IHL tenets. Ethiopian and Eritrean air raids on civilians in Tigray have become so rampant that they not only fail to 'distinguish between civilians and combatants' but proactively target densely populated areas to conduct precision attacks on civilians. There has been no greater middle finger to IHL than the way in which Abiy Ahmed and Isaias Afewerki have 'punished' Tigrayans unchallenged. Indeed, IHL affirms that States are under obligation to prosecute alleged offenders. Luckily for Ethiopia, it is the State itself that is bombing civilians with impunity. And beyond national jurisdictions, the various international criminal tribunals are not batting an eye in the direction of Tigray, let alone forge a process of prosecution against war crimes and crimes against humanity committed by Ethiopia and Eritrea.
We live in a world of realpolitik where the prominent – albeit blatantly wrong – belief is that Tigray is of no practical importance; that it is too small to matter. The international community is bidding Tigray as the small price to pay for the maintenance and upkeep of the Ethiopian state and empire, no matter how genocidally-inclined the latter may be. They know that these airstrikes are killing children and women – starving women and children at that – but they ask, 'outside of moral and ideological considerations, what is Tigray to us?' And they keep living their lives, knowing a genocide is taking place, and yet completely untroubled. Even outside of normative considerations – which should not be the case – they fail to understand that an Abiy and Isaias-free Horn of Africa is a glaringly obvious precondition for any real sense of productive foreign engagement in the region. Either way, a diplomacy that accepts genocide as an acceptable vice for the continuation of the Ethiopian state is doomed to fail. It behooves the international community to accept a new era in the Horn politics that is bereft of a state-building that does not necessitate the extinction of a whole populace. A diplomacy that bypasses state-sponsored genocide is not realpolitik – it is political suicide.
Incomprehensive List of Aerial Attacks on Tigray:
Enderta – November 8, 2020
Airstrike attempts were foiled by anti-aircrafts in Mekelle and crashed at AdiMe'ar and DebreQhibe villages in Enderta woreda, killing an eight-year girl and a pregnant woman, and injuring nine others.
Mekelle – November 16, 2020
Airstrikes hit the compound of the school section of St. George Church where 350 students reside in hut-like shelters, damaging residences and fracturing parts of the church building. Fortunately, no casualties were reported – although the targeting of a densely populated civilian area demonstrates a clear intent to kill civilians and church-goers.
Mekelle – November 16, 2020
Soon after the St. George bombings, new airstrikes hit a residential area near the Church, killing two people and destroying private homes.
Mekelle – November 19, 2020
Airstrikes hit AdiHawsi area in Mekelle in front of the World Vision's (an international humanitarian organization) regional office. Four people were injured, two of them World Vision staff, and two of them children, one suffering a head injury and the second receiving a blow on the chest.
Mekelle – November 19, 2020
Air raids attack Mekelle University's Adi Haqi campus killing two students and wounding several others. The strikes landed on the school campus' cafe during lunch hours at the peak hour of student traffic.
Chemical Attacks – April 2021
Adi Woluwo – 9 April 2021: Civilians suffer horrific burns consistent with the use of white phosphorus and chemical weapons in Adi'Woluwo, eastern Tigray, which attacked civilian houses.
Adi'Ayqoro – 20 April 2021: Civilians suffer horrific burns consistent with the use of white phosphorus and chemical weapons in Adi'Ayqoro, central Tigray, which attacked civilian houses. Victims include a 13-year old girl, Kisanet G/Michael.
Togoga Massacre – June 22, 2021
Airstrikes hit Togogwa, a town 18 miles north-west of Mekelle, during the weekly market day of Thursday, killing at least 64 people and wounding 180. Bodies were still being pulled from the rubble so the number of casualties has likely increased since this report. In addition, Ethiopian soldiers blocked the main road from Mekelle to the town and prevented ambulances from reaching health centers, leading to the death of injured survivors.
Mekelle – October 18 to 22, 2021
Several rounds of airstrikes hit Mekelle killing four civilians and wounding 30 others, including children and pregnant women. The fourth person died after being admitted to a hospital due to lack of medicine that led to surgery complications.
18 October 2021: Airstrikes hit the Messebo village in Mekelle targeting a community of farming families during the Mawlid Holiday. Three children – Misgana Lilay (aged 12), Abel Lilay (aged 14), and Mehdanie Hadgu (aged 9) – were killed and several others injured. Several farm animals were also victims of the bombing.
18 October 2021: Air-raids hit the AdiHaqi Market area (the largest in Mekelle) during the Mawlid Holiday and the weekly Monday market. Several were injured including women and an eight-year old child and several economic structures completely obliterated.
20 October 2021: Airstrikes hit a welding factory floor of Mesfin Industrial Engineering in Mekelle impacting surrounding residential areas, Mekelle General Hospital, and nearby hotel facilities. Freminatos Charity Organization – a center that helps children, senior citizens, and the mentally ill, was also one of the areas affected by the airstrike. Two civilians (see below – Zemariam Kidane and Tsigabu Hiluf) were reported killed along with several injuries. Tsigab was found under the debris of fallen structures six days after the airstrike.
21 October 2021: Ethiopia conducted airstrikes in the residential area commonly known as Lachi in Mekelle and landed on nearby farmland. No casualties reported.
22 October 2021: Airstrikes hit the Mekelle University campus in the EndaEyesus area injuring 11 civilians. The bomb landed inside the University as well as a field nearby, setting alight dry grass collected for livestock. Mekelle University is located 1KM west of the Mekelle International Airport. On the same date, the Ethiopian government had cleared a UNHAS humanitarian flight from Addis Ababa to Mekelle, deliberately putting the risks of humanitarian workers and civilians at risk by carrying out airstrikes near the airport. The UNHAS flight – carrying humanitarian cargo and staff – was forced to abort its landing and return to Addis Ababa.
Imba-Madre – October 24, 2021
Airstrikes hit a crop-field in Ambadre town in northwestern Tigray destroying crops and several animals, as well nearby homes. Local farmers working the fields while the strike happened reported minor injuries due to shrapnels.
Mekelle – October 26, 2021
Airstrikes hit a crop-field in the area known as Arato in Mekelle destroying farms and livelihoods.
Mekelle – October 28, 2021
Airstrikes hit the Kebele 5 area in Mekelle killing ten civilians, injuring several, and destroying residential homes in the area. Civilian casualties remain unknown. Reports showed that children, women, and elderly were among those pulled from the debris. Dismembered remains collected and buried by civilians in the area.
Agulae – November 1, 2021
Airstrikes hit a farming field in Agulae killing animals and destroying crops and livelihoods. A farmer and his two children working the field survived the nearby strike.
Mekelle – November 26, 2021
Airstrikes in Mekelle destroy two civilian houses in the residential area commonly known as Diaspora. Civilian casualties remain unknown. Other houses partially impacted (see below).
Mekelle – November 30, 2021
Airstrikes in surrounding areas of Mekelle bomb a residential area destroying a civilian house. Known injuries include a six year old by the name of Eyob Hiluf and a ten-year old by the name of Yared Woldu, who were playing near their homes. Both Eyob (seen below) and Yared were pulled out of the debris following the strikes and fortunately remained alive.
Tekeze Dam – November 30, 2021
Airstrikes hit the Tekeze Hydroelectric Dam putting the whole of Tigray under a complete blackout and causing damage to the largest public infrastructure in Tigray.
Alamata – December 17, 2021
Six rounds of airstrikes in a market in the town of Alamata kills at least 28 people and injures 80 people.
Korem – December 20, 2021
Airstrikes in Korem, southern Tigray, kills 15 civilians and wounds several, following attacks on a church and a hospital in the small town.
Milazat – December 20, 2021
Airstrikes on a public transport minibus killed 30 civilians, including children, in the town of Milazat, bordering the Afar region.
Chercher – December 25, 2021
Airstrikes in residential areas in Chercher, southern Tigray, kill two civilians and injure four. Various domestic animals were also reported dead.
Dedebit – January 7, 2022
Airstrikes targeting an IDP (internally displaced persons) camp in the town of Dedebit kill 59 people and injure 30, including children. The bombs came at midnight. Aid agencies suspended their work after the deadly strike.
Hewane – 13 January 2022
Airstrikes in residential areas in Hewane, south-eastern Tigray, kill three civilians and injure many.
Adet – January 10, 2022
Airstrikes on a civilian minibus traveling from Semema (Adet) to Axum kill 23 and heavily injure 13 civilians. Those who buried the remains mentioned the strikes took place near Adi Hitsa (around Hideg Wired), also adding that they collected and buried the dismembered remains of the victims using plastic bags and old rags (see images below).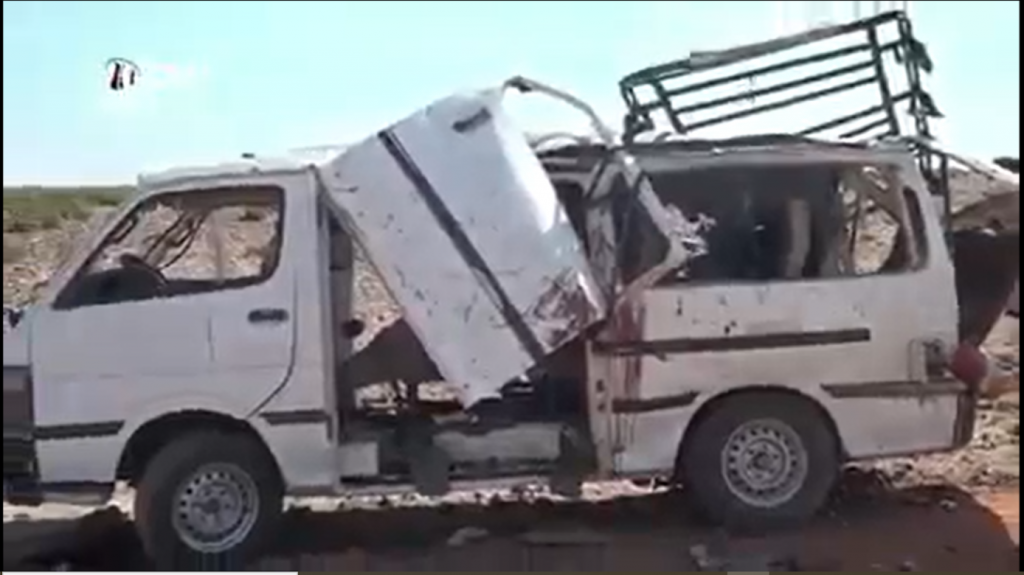 Atsbi – January 11, 2022
Airstrikes in Atsbi, 40kms from Mekelle, heavily injure four civilians and completely destroy the Mehari Tsegay Technical College.
Mai Tsebri – January 11, 2022
Airstrikes in Mai Tsebri, north-western Tigray, kill 17 civilians, including children, and wound several after targeting a flour-mill in the area. Various domestic animals were also reported killed.
Mekelle – August 26, 2022
Airstrikes hit a playground, residential houses, a hotel, and a daycare center in the area commonly known as Kebele 05, killing seven people, mostly children, and wounding many others.
Mekelle – August 30, 2022
Airstrikes hit Mekelle General Hospital in the late evening hours wounding dozens. No casualties yet reported.
---
Alula Tesfay Asfha and Gebrekirstos Gebremeskel contributed in collating the list, Desta Haileselassie Hagos provided a video image.