New data suggests sharp decrease in nutrition assistance in Tigray during food aid suspension
By Duke Burbridge
New data appears to show that nutrition assistance programs for Tigrayan children have been severely reduced by aid agencies, despite promises made to the contrary. Any decline in nutrition assistance to Tigray would come at the worst possible time. The suspension of food aid has entered its third month and reports of starvation deaths continue to come in from across the region along with sharp increase in child malnutrition.
The World Food Programme (WFP) and USAID both sought to offset the impact of the aid suspension and alleviate fears early on. As the WFP press release from June 9 outlined, "nutrition assistance to children, pregnant and breastfeeding women… will continue uninterrupted." USAID also noted that "life-saving nutritional supplements" would continue. However, the data released this week by the Nutrition Cluster in the Emergency Coordination Council (ECC) update for Tigray suggests otherwise.
The most recent report appears to show a sharp decline in the distribution of key supplies like Ready-to-Use Therapeutic Food (RUTF) and F-75 nutritionally fortified baby formula. These supplies are used for one purpose: to keep starving babies and children alive. Everyone with an unmet need for therapeutic food or baby formula is, by default, dying.
Sharp drop in critical supplies
The June 30 ECC update provides a breakout of the distribution of RUTF and F-75 formula for the months of May and June1As of June 29.. During this time, approximately 13,785 cartoons of Ready-to-Use Therapeutic Food (RUTF) and 43 cartons of F-75 formula were distributed in Tigray. Each carton of RUTF contains 150 packages and treats one child for six to eight weeks2 See footnote 6 on page two of the linked document.. Effectively, this would have been enough food to treat about 11,500 children during the 60-day period3This assumes that one carton lasts 49 days..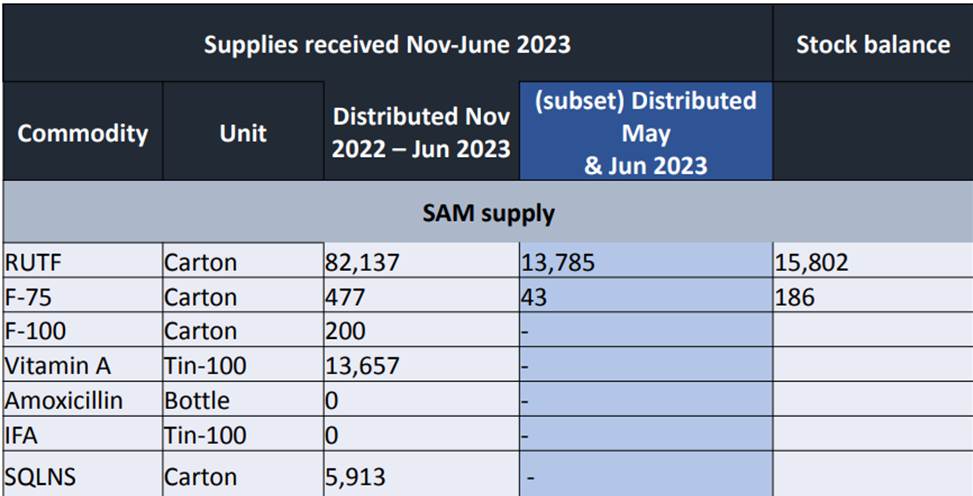 This rate of distribution represents a steep decline from a month prior to the food aid suspension. The ECC does not always report the distribution of RUTF and F-75 in their bi-weekly updates, but it was included in the February 7, 2023 and the December 30, 2022 updates. As shown in the following chart, in December 2022, the cumulative total number of cartons distributed was 6,956 and in February, this total was 33,221. This represents a daily average of 673 cartons of RUTF distributed per day. In Addition, during the same period, 90 cartons of F-75 and 96 cartons of F-100 were distributed, or 2.31 and 2.46 cartons per day, respectively.
A decline in distribution should correspond with a drop in Severe Acute Malnutrition (SAM) patients. However, every indication from Tigray suggests that the reverse is true. Tigray is experiencing a predictable surge in child malnutrition since the beginning of the aid suspension.
Child Malnutrition in Tigray
It is too soon to know the full impact of the food aid shutdown on child malnutrition, but early reports are alarming. Recent data included in the UN-OCHA Situation Report indicates that April admissions for SAM in Tigray increased 196% year-on-year since 2022. According to official data viewed by the author, 36,366 children under five years old have been admitted for SAM this year. Importantly, admissions have far outpaced the number of children discharged4The data is produced by the Nutrition Cluster and has been shared with Tghat Media. . The data indicates that the number of Tigrayan children who are starving to death has increased sharply and exponentially5Malnutrition data did not record outcomes in 2022..
Admissions and Discharges for Severe Acute Malnutrition (SAM) in Tigray
| | | | | | |
| --- | --- | --- | --- | --- | --- |
| | January 2023 | February 2023 | March 2023 | April 2023 | Cumulative |
| Admissions | 6,624 | 9,331 | 11,246 | 9,165 | 36,366 |
| Discharges | 1,367 | 2,644 | 2,954 | 3,589 | 10,554 |
| Caseload Increase | 5,257 | 6,687 | 8,292 | 5,576 | 25,812 |
Source: Ethiopia Nutrition Cluster (July, 2023)
The cumulative increase in Tigrayan children being treated for SAM is an anomaly in Ethiopia. As the chart below shows, no region came close to the cumulative increase in Tigray. In fact, Ethiopia's two most populous regions, Oromia and Amhara, discharged more patients in 2023 than were admitted.
Children are being admitted into special care for malnutrition across Ethiopia at an alarming rate in 2023. In Tigray, for reasons unclear, children who are admitted for severe malnutrition are not being discharged.
This data is limited and incomplete. There must be adequate supplies to provide treatment for SAM for a case to appear in this dataset. Children in areas of Tigray where there are unmet nutritional needs, which is all of Tigray, would not be counted. The true numbers of children in dire need of nutrition assistance in Tigray and across the country are likely much higher. In Amhara and Oromia, the fact that more children are discharged than admitted does not mean that child malnutrition is less severe, it only means that aid groups are effectively treating those who are admitted.
In Tigray, there are even greater limitations on this data due to the continued presence of outside military groups in the region. While the entire Western Zone of Tigray has been off limits to humanitarian groups for more than two years, now anyone living in districts of the Northwest and Southern zone bordering the Amhara region are cut off.
The consequences of failing to provide nutrition services for children under five years old in Tigray are tragically obvious. Therapeutic food and nutritionally fortified baby formula are a last resort to keep malnourished children alive. By blocking the treatment of malnourished children, either physically in the case of the areas along the Amhara border or through the failure to scale up services elsewhere, the people of Tigray are forced to sacrifice the lives of their children for peace.