Tigrayans to Ethiopian Orthodox: "What do righteousness and wickedness have in common?" Ethiopian Orthodox Leaders Rejected in Tigray for their Involvement in Tigray Genocide
Ethiopian Orthodox Leaders Rejected in Tigray for their involvement in Tigray Genocide
A Cold Reception
A group of Ethiopian orthodox church leaders led by Abuna Mathias went to Mekelle today seeking reconciliation with the religious leaders of the Tigray Orthodox Church that declared its independence from the Orthodox Church based in Addis due to the latter's and its leaders involvement in the genocidal war against Tigray and Tigrayans. The Tigray Orthodox Church leaders apparently refused to receive them and to talk with them. Instead, they were received by Tigray Interim Administration leaders where they were briefed about the magnitude of the grievance and where they lamented about the fact that they couldn't talk with the Tigray Orthodox Church leaders.
Their Miniscule Donation Came as an Insult
The Ethiopian Orthodox Church leaders also went with a minuscule 20 million birr (about 200,000 USD in blackmarket price) aid for Tigray. This is from a church that spends hundreds of millions in vanity projects and billions of birr in helping what the church considers its people.
Upon their arrival at an IDP center in Mekelle, the Orthodox leaders from Addis were confronted by a message from 2 Corinthians 6:14 which reads "What do righteousness and wickedness have in common?" in reference to how different the Tigray Orthodox Church (the light) and the Ethiopian Orthodox Church (the darkness) are, according to the IDPs, and that they should not be mixed.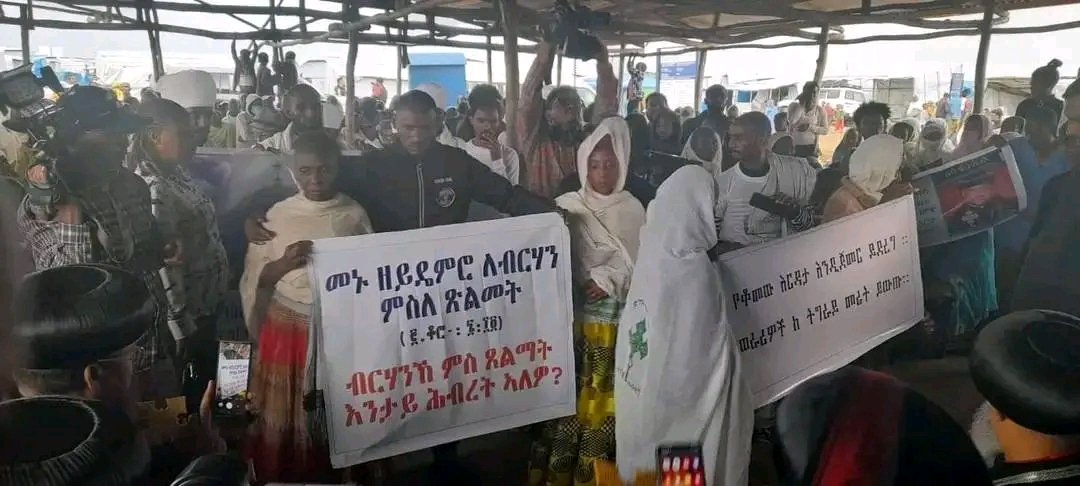 The 20 million birr donation also came as an insult for Tigrayans. Mehari G. Yohannes, a prominent politicians from Tigray Independence Party, probably summarized best how Tigrayans view this donation. In a Facebook post, he said that this was a small part of the money the Amhara Church earned from the sale of religious heritage stollen from Tigray churches. He is referring to the massive looting and plundering of Tigrayan cultural heritage and their sale at markets such as ebay. The "Amhara Church" is a phrase Tigrayans are increasingly using to refer to the Orthodox church based in Addis.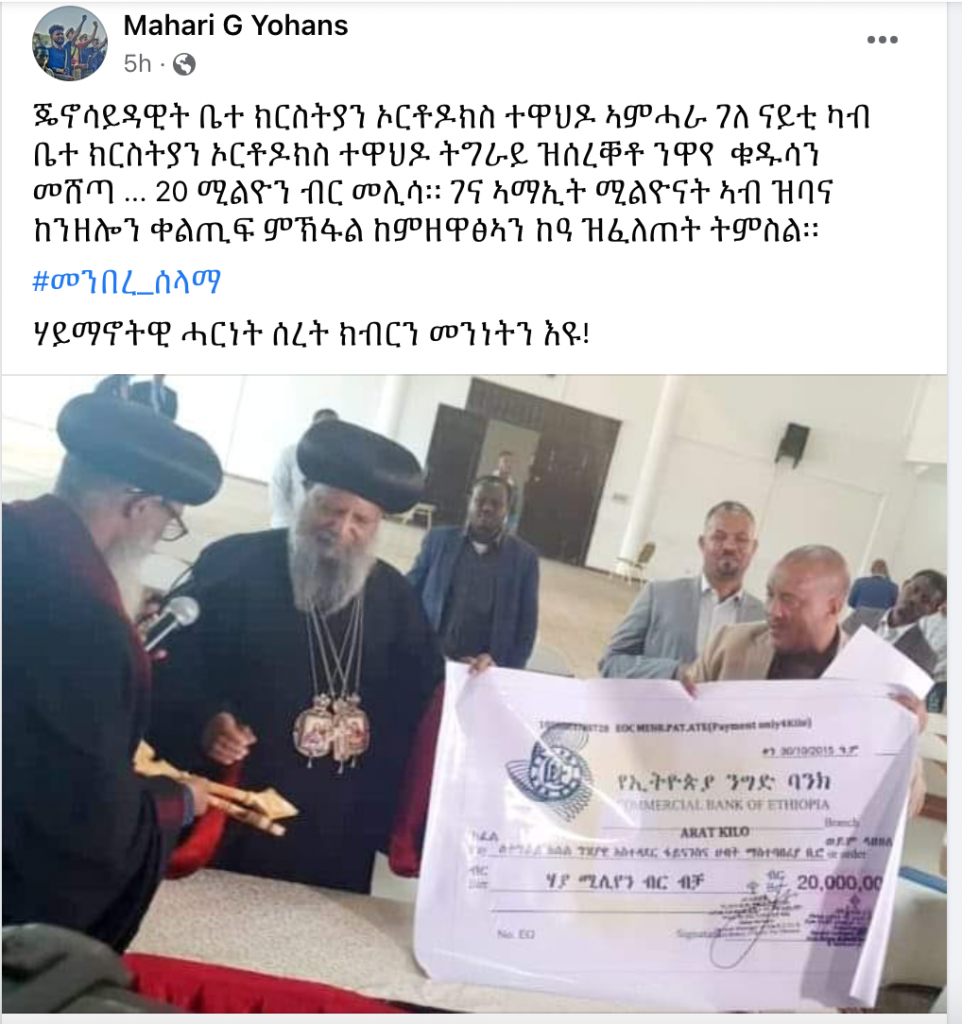 The Orthodox Church based in Addis has also many times profited in the name of helping Tigrayans. For example it budgeted a total of 50,000,000 birr in October 2021 for people affected by war, collected 350,000 US Dollars in the names of IDPs in Tigray and Benishangul Gumuz in January, and raised 15 million birr from Addis Ababa diocese in the name of IDPs. But it spent them all in the Amhara region, and none went to Tigray.
The Tigrayans in the IDPs in Mekelle also displayed messages of what some Ethiopian Orthodox Church leaders said during their support of the war on Tigray.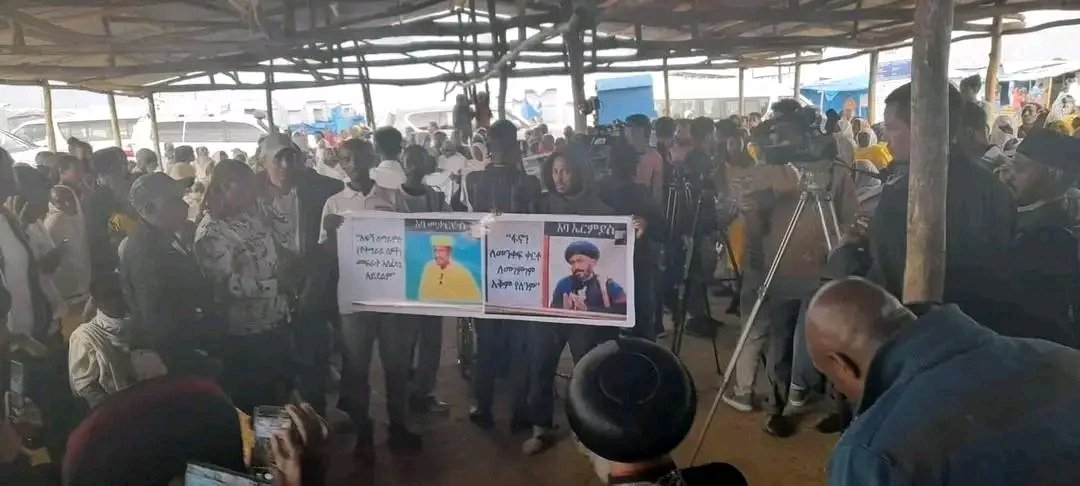 The Ethiopian Orthodox leaders inside Ethiopia and abroad were actively involved in the war on Tigray including in fund raising initiatives, leading demonstrations, writing letters, demonization of Tigrayans and mobilization of anti-Tigrayan forces and militia.
In preparation for its travel to Mekelle and as a PR stunt, the Orthodox Church based in Addis recently issued a shame apology, making light of Tigray Genocide & its active involvement in it. Instead of sincerely apologizing for its direct involvement and the immense damage it caused on the Tigrayan people, it apologizes for secondary issues of not calling for end of war, not consoling Tigrayans, & not delivering aid.
---
See also