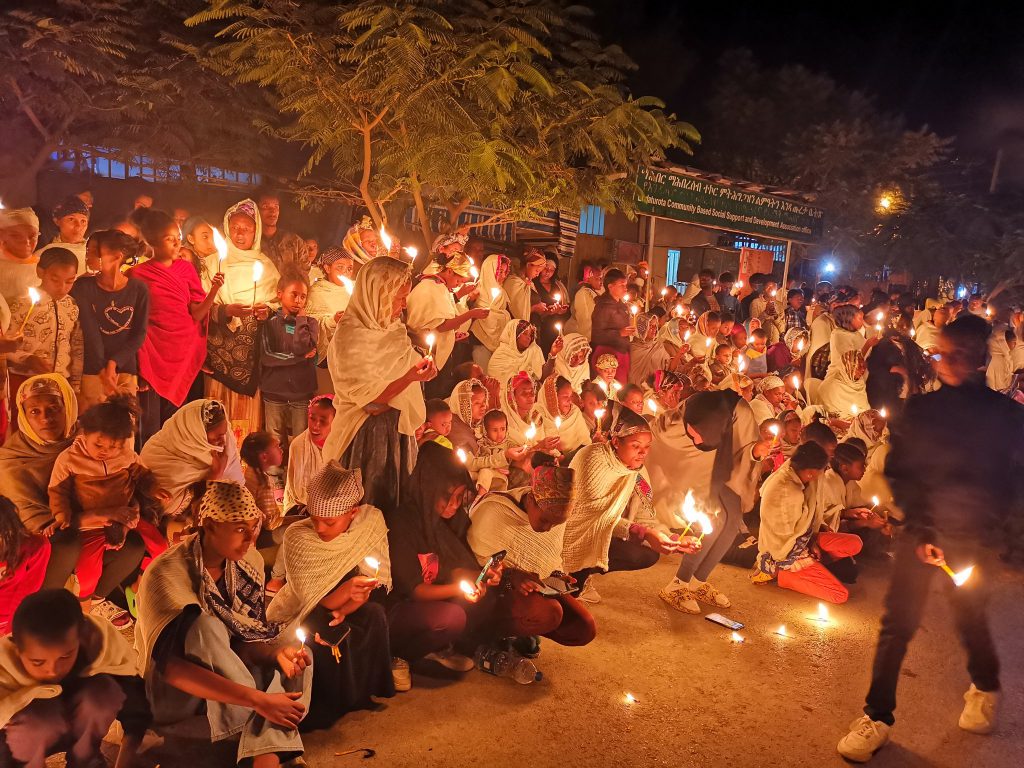 This week, Tigray mourned its martyrs. In the face of an existential threat, the only ones who stood with Tigray were her sons and daughters and so many paid the ultimate sacrifice for their families, their people, and their homeland, either in combat or famine. Aside from a very determined global diaspora and a handful of allies, human rights observers, and journalists, the people of Tigray were on their own. They should not have been.
The West should have stood with the people of Tigray. Instead, the Western world leaders watched, vacillating between indifference to concern to encouragement, but never motivated to take the meaningful action needed to stop the genocide or end the war. The Western-backed African Union-led peace process was a sick joke. It demanded that Tigrayans accept weaponized starvation and ethnic cleansing as preconditions for dialogue. The Tigrayan Defense Forces withstood one invasion after another and held out until they ran out of bullets, food, and fighters. Then they signed the Pretoria Agreement and the AU and EU and US all celebrated "silencing the guns" as if this had not been the only objective of every colonialist army in the history of Africa.
So many Tigrayans gave their lives for Tigray. Families were made to sacrifice children, grandparents, aunts, uncles, and cousins to defend the basic human rights of their people and secure a future for Tigray. Rights, by the way that the West claims to promote, but refuses to protect. More than a million Tigrayans have been killed and possibly more than 100,000 have been the victims of sexual violence. The land has been pillaged, the agricultural, educational, and medical systems are destroyed. None of this was ever well-hidden. The violence associated with the Tigray Genocide was documented by two UN investigations and by some of the most credible human rights organizations and media institutions in the world.
Still today, the West breaks their promises on peace, human rights, and humanitarian principles while Tigrayans are slaughtered, raped, and starved in their homes. In Tigray, genocide survivors are still living under military occupation, in displacement camps with no humanitarian services, and are dying every day of malnutrition. The only recent actions taken by the international community was when the EU shut down the only credible human rights investigation last month and the WFP and USAID "paused" food assistance in March and keep it shut down during the entire agricultural lean season.
Those honored during the period of mourning are the pride of Tigray. Look to the martyrs to see the best of humanity, also to the men and women from all over the world who were killed delivering aid to Tigrayans. Look everywhere else to see the worst of humanity, the indifferent and distracted leaders, incompetent and unaccountable bureaucrats, and weak or even compromised policymakers.
Those who failed are not so easy to find. No one in the US or the multi-lateral system acknowledges failure in Tigray or apologizes for it, because the people who live in Tigray are not treated as human beings. This is not about feelings or empowerment; every time it matters for survival, Tigrayan lives don't matter.
If Tigrayan lives matter:
Why wouldn't the UN Human Rights Council and its Member States have to protect the human rights of people in Tigray?
Why wouldn't the WFP and USAID have to provide the food or aid that was donated for people in Tigray?
Why wouldn't UN Women have to believe Tigrayan survivors of sexual-based violence?
Why wouldn't the African Union, the European Union, the United Nations or the United States have to lift a finger to stop brutal atrocities committed against people in Tigray?
Why was weaponized starvation, ethnic cleansing, and mass rape allowed to happen to the people of Tigray? Why is it still allowed to happen?
Why did every element of the Cessation of Hostilities Agreement that was intended to improve conditions of life for 7 million Tigrayans all get brushed aside?
Why are three years of incompetence, bad decision making, and failure kept hidden like national secrets in this age of forced transparency?
It is because the humanity of Tigrayans is denied as a matter of policy and practice. Denial of Tigrayan humanity is denial of all humanity.
The time of mourning in Tigray should now be one of reflection for diplomats and policymakers. Who in the international system showed an inkling of the courage that the TDF showed in battle with two genocidal armies? Who showed the determination demanded of every single Tigrayan every day for the past three years to protect themselves and their families?
Where are the 'courageous Americans,' that USAID Head Samantha Power once described so vividly in her Pulitzer Prize winning book "A Problem from Hell"? Power's personal website summarizes this groundbreaking work, saying that it "shows how decent Americans inside and outside government refused to get involved despite chilling warnings, and tells the stories of the courageous Americans who risked their careers and lives in an effort to get the United States to act."
It is time for her to be courageous, but instead she is absent. Can she still be considered decent when she, more than anyone else, should have known better? All of the courage shown by the political and diplomatic elite in the West would not cover a single day in the life of a Tigrayan mother or TDF fighter.
Speaking personally
I waited to publish this until after the period of mourning out of respect for the martyrs and their families in Tigray and around the world. I did not personally know any victims of this genocide except through the tributes that people have been posting on social media over the past week and the past three years and the stories that people have told me in person. This time of mourning was for Tigray and Tigrayans of every land.
Those honored in the past three days in Tigray were the best of us. Most will never be asked to sacrifice our lives for our families, still fewer for our people; but all can recognize the highest valor. If courage had a stereotype, it would be someone standing with their brothers and sisters before a genocidal army with their families and everything they love behind them. Bravery can be typified as a widowed mother raising a child in a displacement camp, a medical worker saving lives every day without the most basic instruments and supplies, aid workers who were murdered distributing nutritional supplements to starving civilians, executed on the side of the road, and everyone who ever drove a truck full of relief supplies into Tigray or through occupied areas.
I have been blessed to know that while Tigrayans in Tigray were giving their lives for their people, Tigrayans in the diaspora dedicated their lives and their resources. It is my own privilege to stand beside so many who rose to meet the existential challenge to Tigray head on, driven by their love for their families, their people, and justice.
I have been on the inside of the diaspora relief organizations and media outlets that have been mobilized to support the people of Tigray and I am amazed at the hard-earned capacity. My career has been focused on conflict-affected communities around the world and I can tell you the diaspora-led organizations like Tigrayan Disaster Relief Fund and HPN4Tigray are sadly not found in every existential crisis. Those organizations and many others in Tigray's "global civil society" are working day and night to keep people alive in Tigray, to help people recover from unspeakable trauma, to support local institutions and organizations, and they will help Tigray rebuild itself. My direct observation of how effectively these groups operate helps me sleep at night.
I did not know any of your families, but I feel like I can see them in your faces and know them from your passion. I cannot observe through the eyes of a Tigrayan, but I have watched with the eyes of a father, an uncle, and a brother and I know what Dr. Tedros meant when he wrote: "Pride."